"Here comes the sun.. Here comes the sun, and I say…" I sure am not the only one who instantly has the Beatles' "Here comes the sun" song stuck in my head as soon as the heat hits!! If you are like me and you are wondering what summer hairstyles to adopt when the sun comes out, well, keep reading because I prepared a long and exhaustive list of allll the most summery styles out there!
That's right, you will have enough hairstyles to be summer ready for the next few months (you might even have some in spare for next summer).
Our favorite Summer Hairstyle: the Bandana!
There is nothing more summery and cute than a nice, colorful bandana hairstyle.
Aren't we lucky! This year's favorite summer hairstyles are probably the bandana hairstyles!!
Bandanas are perfect for the summer and they can be worn in many different ways. If you are not so sure about how to incorporate a bandana in your summer hairstyles, there are loads of different tutorials on youtube that you should watch, my favorite one is Milabu's one! For example, you could wear the bandana as a hair band around a loose bun, or as a headband…
There exist a lot of different kind of bandanas that you could wear to add a little "je ne sais quoi" to your outfit!
What is great about bandanas is that they can very easily upgrade any outfit to give a very summery look.
Best Summer Hairstyles: Bubbly, Bubbly Ponytail:
You don't always need bubblegums to make bubbles, you can also have some in your hair ! Ladies and gents, I have the pleasure to present you the bubbles ponytail !!
Mind blown? That's what I thought !
This look is fairly easy to realise ! It basically consist of a simple ponytail with several hair elastics to create a bubble effect to the ponytail. This can give a different, more elaborated style. Perfect for summer, now your "bubbly" personality matches your hairstyle! 😉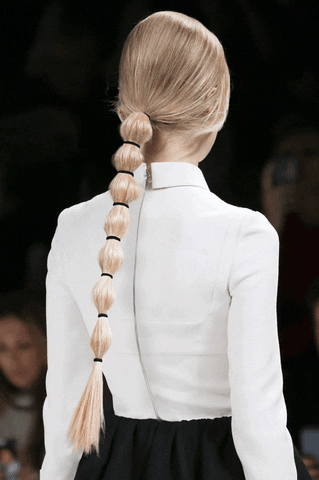 Scrunchy, one of the best summer hairstyles:
What is more summery than a little touch of color ?  Nothing ! Soooooo, this is the reason why scrunchies are YOUR best allies for your summer nights !
funky bun which gives some extra spice to the usual look.
If you are in a rush but you still want to adopt these fancy hairstyles, worry no more, i have THE solution for you. Here is a list of our top 5 picks for a quick hair styling!! 
Summer hairstyle, (hint)you are what you eat:
What is more summery than a bowl of freshly cut fruits? Think about it! probably nothing…
To be on point with your summer diet, you should definitely adopt the Pineapple bun. You will then truly be: "you are what you eat" . This summer hairstyle is particularly perfect for curly hair as it  will preserve the curl pattern., and will avoid the "sweaty neck" (feared by all) situation. Also, this summer hairstyle is a more funky alternative to the regular (boring) ponytail.
Summer Hairstyle: Curls for days !
Natural curly hair or curly bangs like Michelle obama's one. Michelle Obama is more than a model to follow, she is truly a fashion icon. Now that the previous first lady of the United States has adopted her natural locks, going natural will become more than trendy.
Summer Hairstyle: Try a new coloration!
Let's not forget coloration! Funky coloration is always a summer must!
Now is the time to give your hair the color you always dreamed of having. Let it be bright or light pink, a beautiful coral, or a deep lavender… The rule is: the more colorful, the better.
If you don't know what color to pick, here is a list of this summer favorites:  pastel colors, orange-coral, green, purple-lavender, and of course the good old gray. 
What you want in the summertime is to be noticeable, the sun is out, so are you!
Summer Hairstyle: Bobs rock!
The lob: long bob, this is THE trendy hairstyle of the summer. This is probably because it is a short hairstyles, and we all know that the longer the hair, the warmer we get!
The bob with bangs, this has always been trendy, but it is even more this season. The more extravagant the bangs (the shorter, or the curliest… the better).
The Most important part of the hairstyle: healthy hair!
Last but not least, let's not forget that to rock all these fancy hairstyles, you MUST have healthy hair!! Learn all the tricks about healthy hair by reading our blog on what to do and not do to have healthy hair. 
Hope this helps you find your favorite summer hairstyles.
xoxo, 
Bea 😉 
(Visited 57 times, 1 visits today)